Introducción al dossier
Descargas
La descarga de datos todavía no está disponible.
Citas
Agarwal, N. K. (2017). Exploring Context in Information Behavior. Springer. https://doi.org/10.1007/978-3-031-02313-2
Araújo, C. A. Á. (2009). Correntes teóricas da ciência da informação. Ciência Da Informação, 38(3), 192–204. https://doi.org/10.1590/S0100-19652009000300013
Araújo, C. A. Á. (2017). O que são 'práticas informacionais'? Informação Em Pauta, 2, 217-236.
Calva González, J. J. (2004). Las necesidades de información: Fundamentos teóricos y métodos. Universidad Nacional Autónoma de Mexico Centro Universitario de Investigaciones Bibliotecológicas.
Case, D. O., & Given, L. (2016). Looking for information: A survey of research on information seeking, needs, and behavior (4a ed.). Emerald.
Given, L., Case, D. O., & Willson, R. (2023). Looking for information: Examining research on how people engage with information (5a ed.). Emerald.
González-Teruel, A. (2005). Los estudios de necesidades y usos de la información: fundamentos y perspectivas actuales. Trea.
González-Teruel, A., & Barrios-Cerrejón, M. (2012). Métodos y técnicas para la investigación del comportamiento informacional: Fundamentos y nuevos desarrollos. Trea.
Huvila, I. (2008). Participatory archive: Towards decentralised curation, radical user orientation, and broader contextualisation of records management. Archival Science, 8(1), 15–36. https://doi.org/10.1007/s10502-008-9071-0
Huvila, I. (2011). The politics of boundary objects: Hegemonic interventions and the making of a document. Journal of the American Society for Information Science and Technology, 62(12), 2528–2539. https://doi.org/10.1002/asi.21639
Julien, H. (1996). A content analysis of the recent information needs and uses literature. Library & Information Science Research, 18(1), 53–65. https://doi.org/10.1016/S0740-8188(96)90030-4
Julien, H. y O'Brien, M. (2014). Information Behaviour Research: Where Have We Been, Where Are We Going? / La recherche en comportement informationnel : D'où nous venons, vers quoi nous nous dirigeons? Canadian Journal of Information and Library Science, 38(4), 239–250. https://doi.org/10.1353/ils.2014.0016
Macevičiūtė, E., & Wilson, T. D. (2002). The development of the information management research area. Information Research, 7(3), 7-3.
Macevičiūtė, E., & Wilson, T. D. (2018). Digital means for reducing digital inequality: Literature review. Informing Science: The International Journal of an Emerging Transdiscipline, 21, 269-287.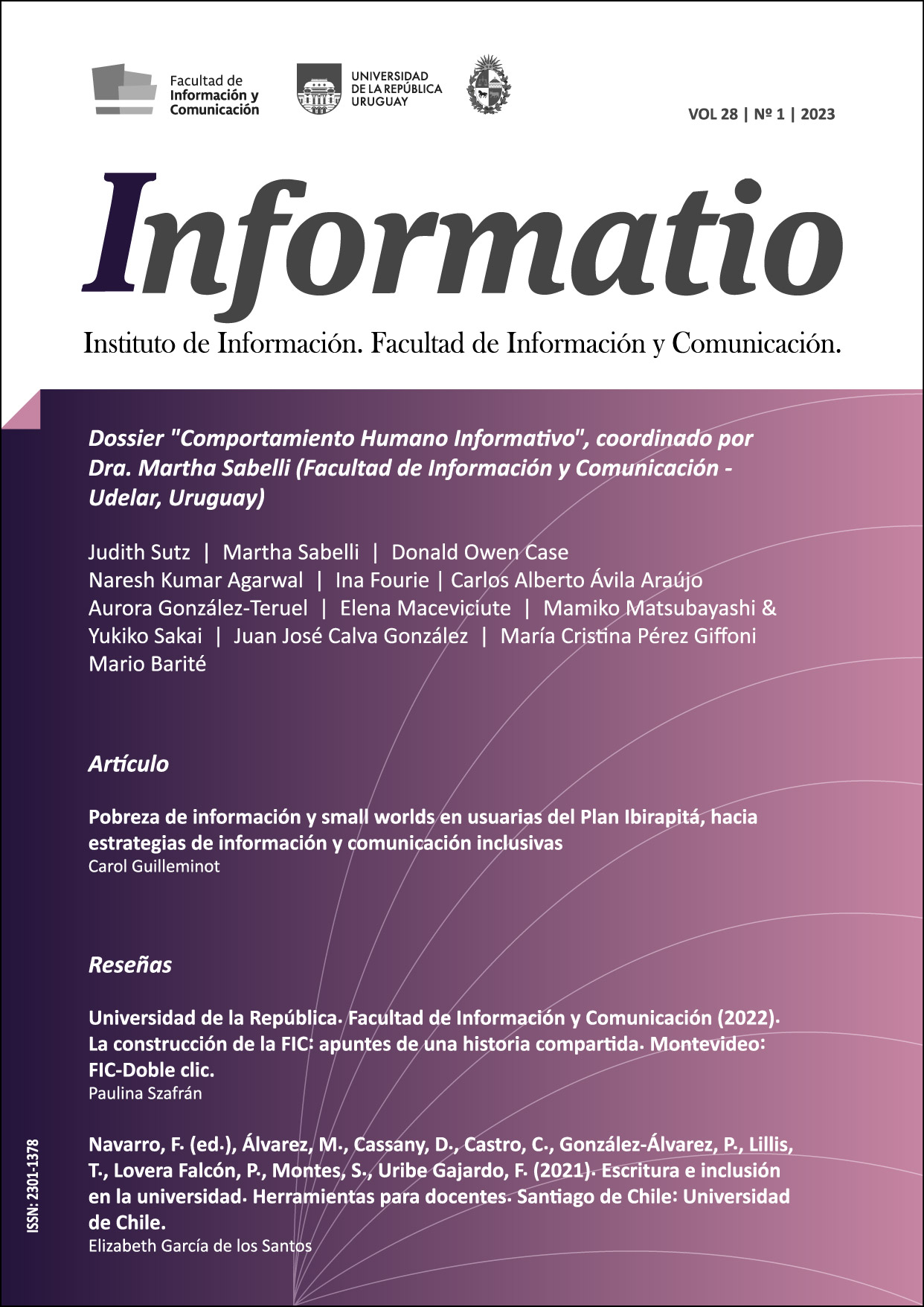 Cómo citar
Sabelli, M., & González-Teruel, A. (2023). Introducción al dossier. Informatio. Revista Del Instituto De Información De La Facultad De Información Y Comunicación, 28(1), 4-10. https://doi.org/10.35643/Info.28.1.1
Sección
Dossier "Comportamiento Humano Informativo", coordinado por Dra. Martha Sabelli (Facultad de Información y Comunicación - Udelar, Uruguay)
Derechos de autor 2023 Martha Sabelli, Aurora González-Teruel
Esta obra está bajo licencia internacional
Creative Commons Reconocimiento 4.0
.