El outsourcing en las bibliotecas universitarias: el approval plan y su impacto en la gestión de colecciones
Javier Echenagusía Stryzeus

Instituto de Información, Facultad de Información y Comunicación (Universidad de la República)
Palabras clave:
Adquisiciones, Approval plan, Gestión de colecciones, Outsourcing, Selección
Resumen
La aplicación del outsourcing en el ámbito bibliotecario es un tema controversial que ha motivado múltiples cuestionamientos entre los responsables de la gestión bibliotecaria. Con el fin de centrar la discusión en los aspectos medulares de este fenómeno, de escasa divulgación entre los profesionales de habla hispana, el presente artículo tiene como objetivo realizar un sintético estado de la cuestión sobre el mismo desde la perspectiva de la gestión de colecciones en bibliotecas universitarias. Utilizando como método la revisión bibliográfica, se contextualiza la evolución de la gestión de colecciones, seguidamente se aborda el origen y desarrollo del outsourcing en general y particularmente en las bibliotecas. Posteriormente se analiza el denominado approval plan, modalidad de outsourcing surgida en los Estados Unidos en la década de 1960, sus ventajas y riesgos de implementación. Finalmente se exponen breves consideraciones sobre las perspectivas de su uso por diversos tipos de bibliotecas.
Descargas
La descarga de datos todavía no está disponible.
Citas
ABEL, R. (1995). The origin of the library approval plan. Publishing Research Quarterly, 11(1), 46-56.
AMEEN, K. (2005). Developments in the philosophy of collection management. Collection Building, 24(4), 112-116.
ANGÜES RODRÍGUEZ, P. (2015). Análisis del outsourcing como estrategia de gestión empresarial (Tesis de grado). Recuperado de http://hdl.handle.net/2183/16387
BRANIN, J.; GROEN, F.; THORIN, S. (1999). The changing nature of collection management in research libraries. Library Research and Technical Services, 44(1), 23-32.
CADAVID ARANGO, C. A. (1994). ¿Selección y adquisición, o desarrollo de colecciones?: revisando a Evans. Revista Interamericana de Bibliotecología, 17(1), 15-26.
DÍAZ-JATUF, J. (2011). ¿Desarrollar o gestionar colecciones en bibliotecas?: abordaje terminológico. Trabajo académico presentado en el V Encuentro de Bibliotecarios de la Provincia de Córdoba, Córdoba, Argentina. Recuperado de http://eprints.rclis.org/15969/
ESPINO RODRÍGUEZ, T.; PADRÓN ROBAINA, V. (2006). A review of outsourcing from the resource-based view of the firm. International Journal of Management Reviews, 8(1), 49-70.
FORTE, E. et al. (2002). Developing a training program for collection managers. Library Collections, Acquisitions, and Technical Services, 26(2), 299-306.
FUENTES ROMERO, J. J. (2007). Las definiciones de la colección de materiales de las bibliotecas. Los conceptos de desarrollo y gestión de las colecciones: un estado de la cuestión. Boletín de la Asociación Andaluza de Bibliotecarios, 22(88-89), 89-108. Recuperado de https://www.aab.es/app/download/6133740/bibliotecarios+88.pdf
GABRIEL, M. R. (1995). Collection development and evaluation: a sourcebook. Metuchen: Scarecrow Press.
GELFAND, M. A. (1968). Las bibliotecas universitarias de los países en vías de desarrollo. París: Unesco.
GORMAN, G.; KENNEDY, J. (1992). Collection development for Australian libraries. Wagga Wagga: Centre for Information Studies, Charles Sturt University-Riverina.
HANDFIELD, R. (2006). A brief history of outsourcing. NC State Poole College of Management. SCRC Articles Library. Recuperado de http://scm.ncsu.edu/scm-articles/article/a-brief-history-of-outsourcing
HORAVA, T. (2010). Challenges and possibilities for collection management in a digital age. Library Resources & Technical Services, 54(3), 142-152.
JOHNSON, P. (2004). Fundamentals of collection development and management. Chicago: American Library Association.
LARA NAVARRA, P.; MARTÍNEZ USERO, J. A. (2002). Outsourcing en las unidades de información de las organizaciones. El Profesional de la Información, 11(3), 164-171.
LLORET ROMERO, M. N. (2011). Outsourcing as a change management tool in libraries and documentation centers. The Bottom Line: Managing Library Finances, 24(1), 73-79.
MARTIN, J.; ZAGHLOUL, R. (2011). Planning for the acquisition of information resources management core competencies. New Library World, 112(7/8), 313-320.
MARTIN, R. (Ed.). (2000). The impact of outsourcing and privatization on library services and management. Chicago: American Library Association.
NEGRETE GUTIÉRREZ, M. C. (1999). El impacto del cambio en el desarrollo de colecciones en bibliotecas universitarias. SCIRE: Representación y Organización del Conocimiento, 5(1), 55-64.
O'NEILL, A. L. (1993). How the Richard Abel Co., Inc. changed the way we work. Library Acquisitions: Practice & Theory, 17(1), 41-46.
ROMAGNOLI, S. E. (2006). Outsourcing en unidades de información jurídica corporativas. Información, Cultura y Sociedad, (15), 107-114.
SAN JOSÉ MONTANO, B. (2011). La gestión de la colección cooperativa en las bibliotecas universitarias a comienzos del siglo XXI (Tesis doctoral). Universidad Carlos III de Madrid, Departamento de Biblioteconomía y Documentación, Madrid, España. Recuperado de http://hdl.handle.net/10016/10412
SAN JOSÉ MONTANO, B. (2014). The new paradigm of collection management in university libraries: from crisis to revolution. Collection Building, 33(3), 90-97.
SWAN HILL, J. (1998). Boo! Outsourcing from the cataloging perspective. The Bottom Line: Managing Library Finances, 11(3), 116-121.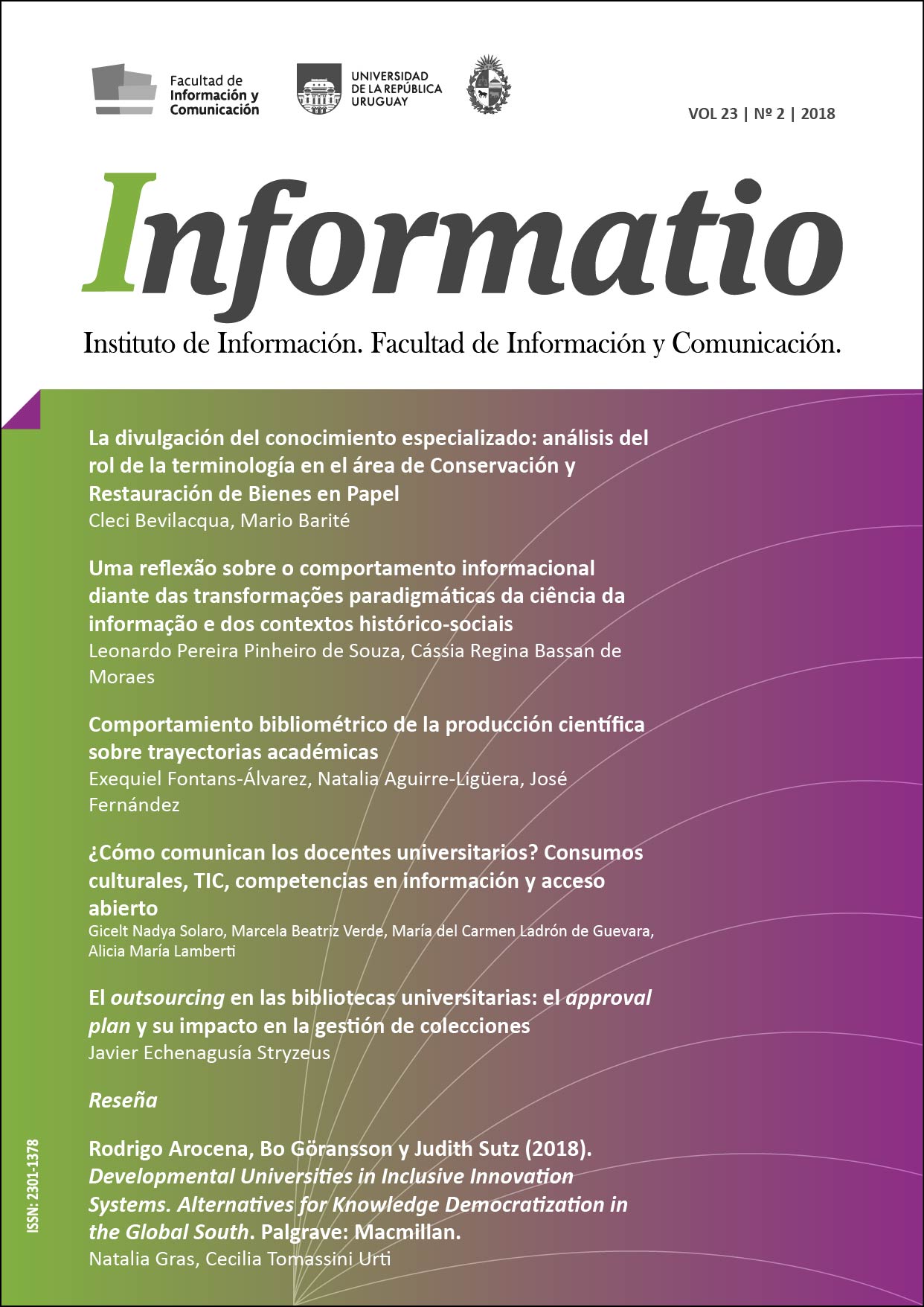 Cómo citar
Echenagusía Stryzeus, J. (2019). El outsourcing en las bibliotecas universitarias: el approval plan y su impacto en la gestión de colecciones. Informatio. Revista Del Instituto De Información De La Facultad De Información Y Comunicación, 23(2), 221-233. Recuperado a partir de https://informatio.fic.edu.uy/index.php/informatio/article/view/214
Derechos de autor 2019 Javier Echenagusía Stryzeus
Esta obra está bajo licencia internacional
Creative Commons Reconocimiento 4.0
.